When you hear the phrase "CO2 Pistol" do you think of an 8 shot .177 plinker? If so it's time to think again. The gun on test is new to the UK, many of you may not have heard of the RAM concept so a short introduction is in order. RAM stand for Real Action Marker its vital statistics are:
Calibre .43 (11.3 mm)
CO2 Blow-Back (12g CO2 bulb)
Magazine Capacity 9 shots
Max Energy 2 Joules
Safety Decocking button
Sights: Adjustable rear sight
Trigger Single/Double-Action
From the above some of you may have gathered it is not just another BB gun. It fires .43 calibre rubber ball rounds (it can also fire paintball) and it was designed primarily to be used as a training firearm, hence the name.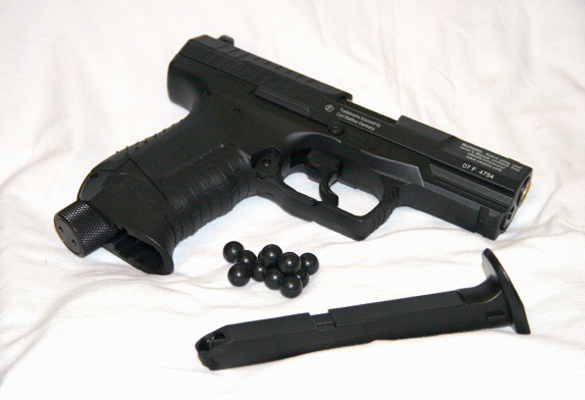 It arrives nicely presented in its own hard plastic case. The case contains the gun, magazine, cleaning kit, user manual & spare backstrap. The gun feels weighty and well built, compared to a lot of airsoft I have handled. The action snaps forward nicely and holds open when pulled back with an empty magazine in.
The gun is a licensed copy of the Walther P99 (which most people will know from the newer Bond movies) and it features the decocking mechanism, cocked indicator, mag release and double/single action trigger of the real thing. The mag release is incorporated in the trigger guard and is activated by the trigger finger this seems strange at first but it is truly ambidextrous and it makes it more difficult to get an accidental discharge whilst dropping the mag. The mags themselves are made of metal (including the follower) and seem sturdy enough to take a few knocks; in the short time that I've had the gun they haven't exhibited any fragility despite being dropped on a variety of surfaces.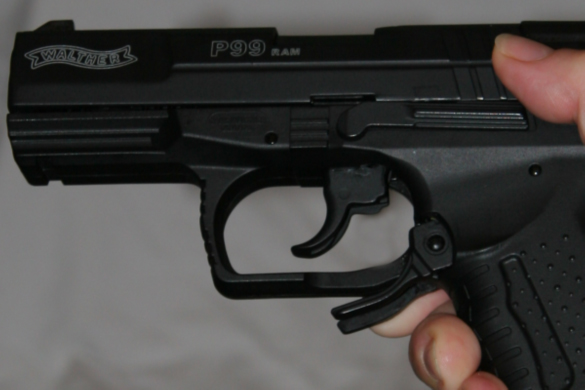 Mag release
The trigger feels heavy at first but that is the double action first shot, in single action the trigger is very crisp with a long travel before the break. This travel is less apparent when shooting quickly and I was able to achieve sub 0.2 second split times between shots consistently. The sights are easy to pick up with white dots on all three which makes for very quick aiming; the rear sight is adjustable left and right.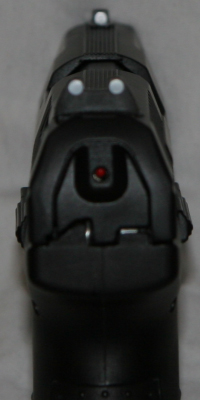 In a test at 10m the I was able to get all 10 rounds on the A zone of an IPSC target with slow and rapid fire the group in both cases was about 6 inches, bearing in mind the gun is smooth bore I thought that was ok. It's worth pointing out that this was with the lightweight ammo (0.8g) and better shooters will be probably be able to improve on that.

Shooting a string between two targets as fast as I could (sub 0.2s split times between shots, sub 0.4s between targets and 2-3s mag change - need to practice) I managed to get 38 shots off before the power dropped and the gun stopped self cocking. It's interesting to note that the gun didn't lose power up to that point but when it stopped it made a distinctive popping sound. It should also be noted that the drop off in power was due to icing of the CO cylinder, so the amount of shots you get will depend on ambient temperature and rate of fire.

I used the gun at our airsoft practical match in September, the gun worked well, cleanly marking the targets and it was a pleasure to use; being able to drop magazines, without worrying about breakages made for even more fun. Several people used the gun and everyone agreed the blowback was harder than the airsoft guns we had been shooting and a straw poll at the end of the match gave it a general thumbs up. A few people commented that it felt more realistic and solid than the airsoft.

Overall the P99 is good to shoot; it's solidly made, robust and comfortable in the hand. It feels like the real thing and I have no hesitation in recommending it for anyone who would like to shoot practical style comps (like the ones we do at Parkstone Range - First Thursday of the month.) It's in a different class to the airsoft (because of the lower mag capacity and different shooting characteristics.) We are hoping to run an aggregate competition for the class beginning in January 2008, but you are welcome to come along and give it a go before then, as we will be running the guns at the airsoft matches.

If you are interested in buying one I would recommend getting one from Swords and More, they are a German company who are very helpful and a lot cheaper than buying in the UK at the moment.

Mike Jones

If you have any questions about the airsoft comps or the RAM please email me

Please note this article was written in August 2007. Since then the VCR act has come into force, please check with the relevant authorities before attempting to import a RAM - MJ 2008